Today I would like to introduce my local playspot in Bad Aibling. As its name implies it is a very small little wave. It is slow, shallow and 20 m behind it are some sharp rocks where you can easily get hurt if your eskimoroll is not fast enough.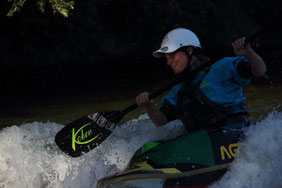 So you might ask the question why it is worth to go there? Well here is the answer:
1.) It is running most days of the year.
2.) It is really close to Rosenheim, where many paddlers live, and not so far from Munich. So it is the perfect place to chill out and catch the last sun after a day at work, school or university.
3.) The water is fresh and clear.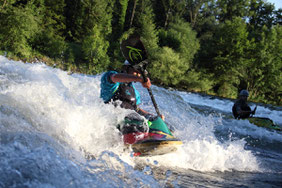 4.) It got eddy service both sides.
5.) Parking spots are available only 10 m from the put in, not many though but enough.
6.) Wednesday evening is barbecue night. So make sure you bring some drinks, food and charcoal. A Palm Universal Mat to sit on would be useful as well.
7.) Most moves possible if you are brave enough to try.
8.) Paddling is so much fun!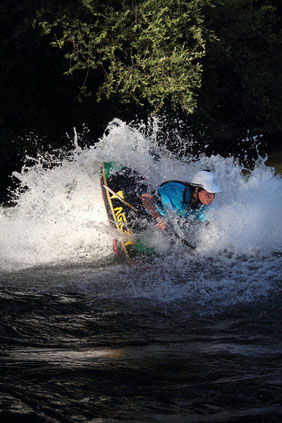 Important to know:
1.) As the wave is in the middle of a residential area please behave while parking, getting changed, barbecue, paddling, …
2.) The most seen boat there still is a Robson Twin Tip. So far I was not able to find out if that boat simple works the best there or if it is due to the fact that the older paddling generation using the spot mostly.
3.) If you are fancy on going to the Swimming Pool / Spa after your session, there is a thermal spa just few hundred meters upstream of the wave – that´s the way to go in the cold season.
4.) Check those two links for water level information. Check both as the wave is at the confluence:
Triftbach needs to be at a flow of 8-12 m³/s and Mangfall has to be at least about 4 m³/s, no problem if you have more water.
5.) How to get there? Find directions here!
See you there!